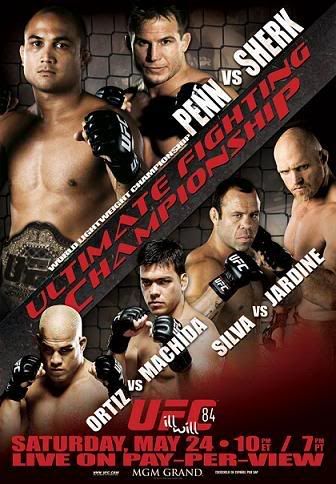 Due to the recent flurry/bukkake of sports related posts in the past month or so I have decided to post about a sport that I might actually know more about than any of the other cool kids, MMA. A sport that gets "beat up" by conservative folks for being a blood sport.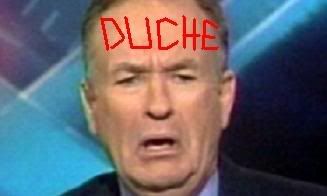 Bill O'Reilley is quoted saying, "...your selling brutality this is a brutal sport and people come to watch it because thy want to see violence."
This is completely untrue, I mean if mma is so violent than why would
Bj Penn
say shit like, "
Sean Sherk
is telling everybody, 'I can take
BJ Penn
down, whats he gonna do on his back?' the real question is whats
Sean Sherk
gonna do whe he gets on his back and I'm sitting on him, and elbowing him in his face and punching his face and licking the
BLOOD
off his face while I'm punching him what is he gonna do then?"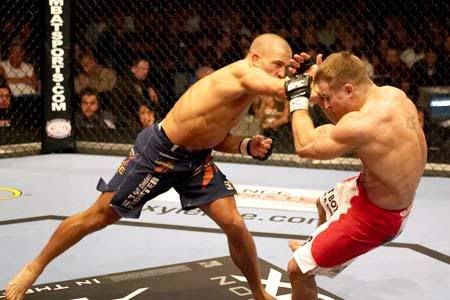 OK well maybe O'Reilley is right about the whole brutality thing, but honestly who gives a fuck about what O'Reilley says any ways. I honestly don't so enough about that duche bag. On to more pressing news like how Bj Penn is gonna kick the living crap out of Sean Sherk. Mother fucking "The Prodigy" is gonna LICK THE BLOOD OFF HIS FACE WHILE HE'S PUNCHING HIM! Honestly, you have to give Penn credit for being so creative with his shit talking. He's like the Picasso of ass kicking. He should consider a career in creative writing with lines like that.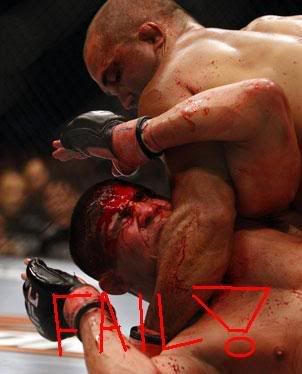 Real quick for those of you who don't know I'll break down a short summary of whats going down. Penn has won the title of light weight champion after almost literally murdering Joe Stevenson. Sherk was the former champ but lost his belt due to testing positive for steroids about 10 months ago. Now that things have settled down Penn and Sherk are set to fight this saturday for the belt. I personally wouldn't even call it a fight because Penn as hes done in his past two fights is going to slaughter his lesser opponent Sherk.
Bj "The Prodigy" Penn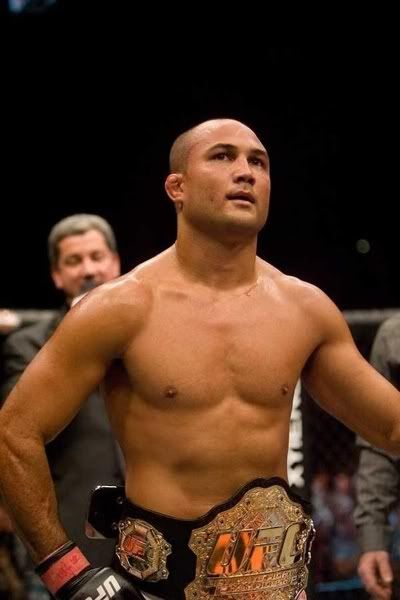 Penn
is one of the greatest fighters in UFC history, as a matter of fact in MMA history as a whole. He is often hailed for being able to dominate fights off of his sheer talent alone. Also the second man to hold two titles in different weight classes, the other being Randy Couture. Not to mention has fought in about 3 different weight classes light, welter, and light heavy. Boasting a record of 12-4 and 1 draw. Although it seems as though he hasn't gad many fights, like many other things it is bout quality not quantity. His 4 losses have been to fighters of higher weight classes having only lost once to a lightweight Jens Pulver who he later defeated by rear naked choke in their rematch fight.
Bj Penn
simply got bored with the weight class and moved up weights to test himself and went back to lightweight to claim the title, unlike
Sherk
who moved down a weight because he pretty much was no match for the likes of guys like GSP and Matt Hughes
Sean "The Muscle Shark" Sherk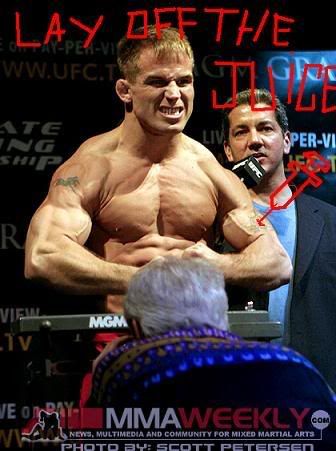 Honestly who really gives a fuck about this guy? Ok maybe a little info a.k.a. shit talking about Sherk. The guy is talented no doubt with conditioning that is down right ridiculous. In my opinion the only true advantage that Sherk has is his conditioning. Being that he is a wrestler and a good one at that, he'll need to look for the takedown. The guy is an experienced fighter with a record of 32 and 2 with 1 draw. Their is no way in hell Sherk can stand with Penn in the first 3 rounds so his best bet is to weather the strorm until later rounds.
Predictions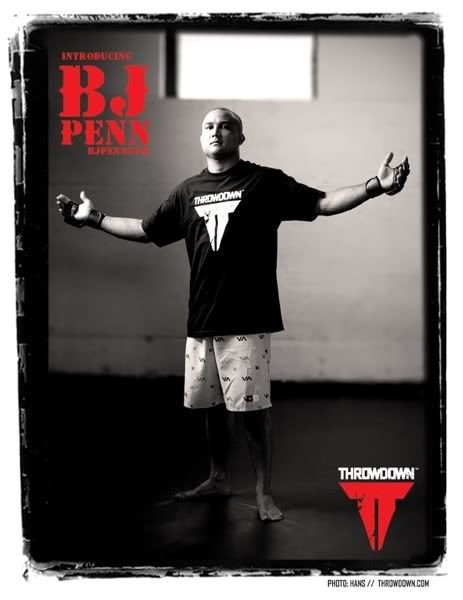 Sherk will look for takedowns all day and try and get the ground and pound. Honestly this won't really work until later rounds where Penn historically is at his worst. While Sherk has relentless takedowns Penn has an amazing takedown defense. The guy can do more on one leg than most fighters can do on two. My prediction is that Penn will end it in the 2nd or 3rd round by submission rear naked choke. Not to underestimate Sherk, but the guy is simply going down. Sherks only hope of winning is honestly by TKO in the 4th or 5th round, but the most likely scenario is a win by decision since Sherk hasn't been able to end a fight since 2005. Despite Penn's lack of conditioning in the past I believe that hes got just enough cardio to put Sherk in a casket.